There was a time when website owners used to manually insert Google Adsense Code on websites to monetize. Then came Google Auto Ads, where Google automatically places Adsense ads on your website.  While Google Auto ads is great, ads may still appear in unwanted regions where you may not prefer to show ads. In this post, we will see how to remove Google Adsense Auto Ads from undesired areas.
Benefits of using Google Adsense Auto Ads
Google Adsense Auto ads offer a simple and innovative way for you to monetize. With Google Auto ads, you place one piece of code, and Google ads will appear across your site. Google Auto ads scans your site and automatically place ads where they're likely to perform well and potentially generate more revenue.
While manually adding Google Adsense code gives the website owner exclusive control where to display ads, it may be tedious if you want to experiment with various ad layout, size and frequency. Google Adsense Auto Ads also has its own benefits.
Easy to use as website owners need to place one piece of ad code to get started. You do not need to manually add Google Adsense Code at different places.
Responsive– Google Auto ads will automatically adjust to the space available and changes in site layouts.
Potentially increase your revenue as Auto ads analyze your pages and find new places to show ads based on your layout, content, and existing Google ads.
Control over where ads appear on your site from Google Adsense Ad settings.
Google Auto ads are mobile friendly. Auto ads automatically adjust to every screen size.
How to enable Google Adsense Auto Ads on your website?
If you have not enabled Google Adsense Auto Ads on your website, click here –
How to remove Google Adsense Auto Ads from undesired areas on your website?

Though Google Adsense Auto Ads has its benefits, there are instances where Google Auto Ads may appear at undesired areas such as on the header, which you may want to keep clean.
Thankfully, you can remove Google Adsense Auto Ads from undesired areas by telling Google Auto Ads where not to show Google Adsense ads.
To remove Google Adsense Auto Ads from undesired areas, you may try the following the steps below.
Log in to your Google Adsense Account
Click on Ads from the left hand side menu.
There are three tabs/links in this page – by site, by ad unit and global settings.
By default it is on 'by site'. If not, click on 'by site'.
You will see the list of sites where your Google Adsense is applied.
Click on the pencil icon next to the site to edit the site settings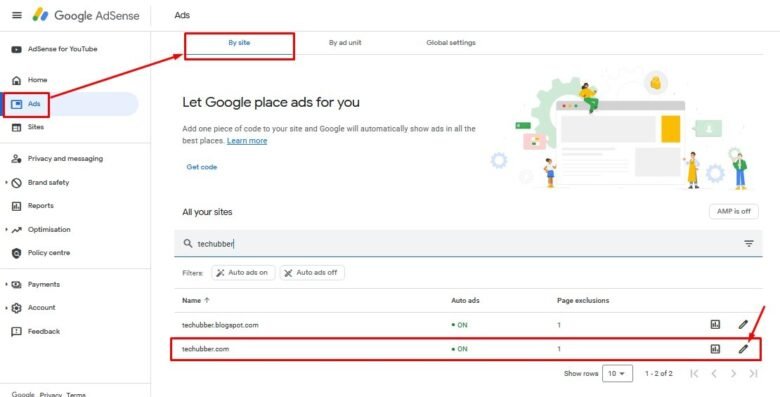 You will come to Ad Preview Settings page
Here you can preview the appearance of Google Auto Ads for mobile as well as for desktop.
Check the appearance of Google Auto ads and click on the delete icon wherever you do not want Google Auto ads to appear.
On the right hand side you can choose the type of ads.
At 'Ad Load' you can also change the number of ads to display by moving the slider between 'min' and 'max'. For better user experience, ads may be kept at optimum.
Click Apply to Site when you are done.
If Google Auto Ads still appear at some other undesired areas, come to the ad preview settings page again, review and re-adjust the settings as desired.
# How to remove Google Auto Ads from unwanted areas
# Exclude Google Auto Ads from areas
# minimize Google Adsense Auto Ads
# Stop Google Adsense Auto Ads
# Change Google Auto Ads settings
# Remove Auto ads from an area of your site